Manalapan Township is Manalapink for the Month of May in an effort remind women to get their annual mammograms, which is the best defense against breast cancer.
A program started by Hackensack Meridian Health nine years ago after learning how shockingly few women were getting checked, the Paint the Town Pink initiative has not only encouraged a growing number of women 40 and older to get their annual mammograms, but has also raised money to help provide mammography screenings to under-served and uninsured women.
This year Manalapink organizers are expanding the program's scope to include overall well-being by asking women to schedule a wellness visit, gynecological exam, and commit to one positive change in their everyday lives when they schedule their mammogram.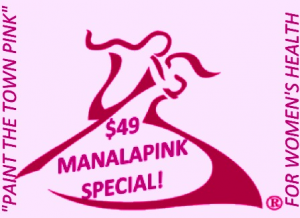 Pink's objective is to integrate an important message about prevention, detection, and treatment into a woman's daily routine — whether it is in the places she shops and dines; works and lives; or through her community's schools and community organizations.
Support from our businesses and community volunteers is what makes Paint the Town Pink so successful. Although new in town, Arthur Murray of Manalapan is joining the bandwagon and is offering a special for the month: painting the dance floor pink by doating $10 of every $49 for two (2) Introductory Private Dance Lessons with complimentary Consultation included.
(Wear pink to your first dance lesson and receive a special invitation to a group class~ an extra session to thank you for your support!)
CALL, CLICK, or COME BY, and let's start dancing for awareness, education, action, and a cure!
---
Written by Jindalae Suh for Arthur Murray Central New Jersey